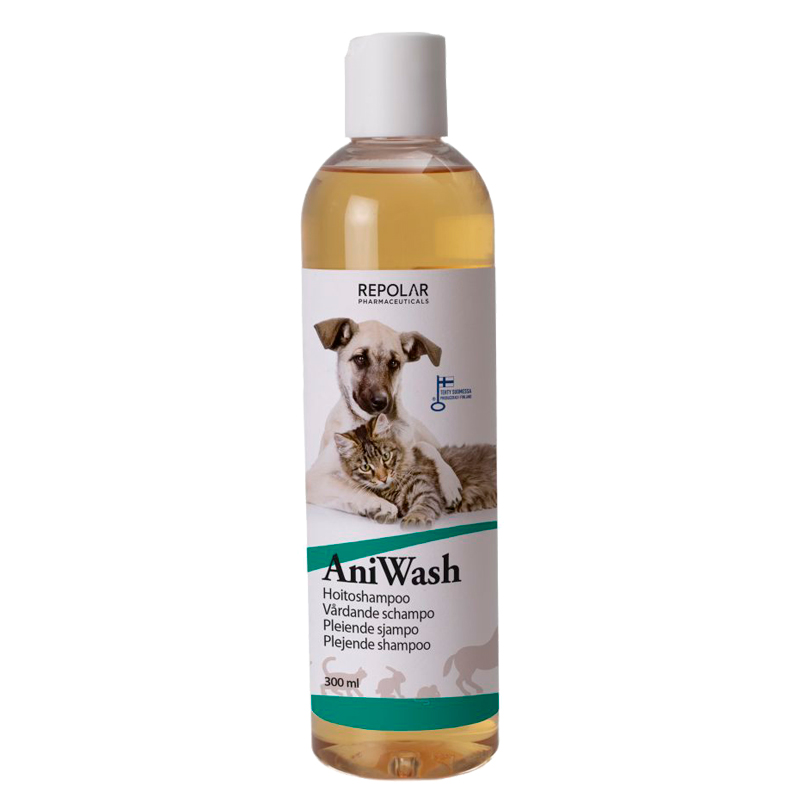 AniWash® Treatment shampoo has been developed to alleviate skin problems in animals. It soothes flaky skin, redness, itching and irritation. The gentle and moisturizing shampoo washes the animal effectively without drying the skin and is also suitable for basic washes.
The shampoo does not sting on scabby, purulent or broken skin. Balances the moisture balance of the skin. Contains natural ingredients of Norway spruce resin.
Available from pharmacies and veterinary clinics.
How to use
Pre-washing is recommended at the start of the treatment and when the animal is dirty. Wet your pet's fur. Administer the shampoo in several places and carefully massage it into the skin underneath the fur. Rinse the shampoo away. Pre-washing removes dust, dirt, odor and allergens from the skin and the fur.
On a treatment wash, massage the shampoo into the skin and let it work for approximately 10 minutes. Carefully rinse the shampoo away with lukewarm water. Dry your pet's fur with a towel.
When treating skin problems, we recommend that you wash your pet with the shampoo 2 times a week over a 3-6-weeks period or as needed. If the shampoo gets into contact with eyes or the mouth rinse if off with plenty of water.
Package sizes, storage and shelf life
300ml bottle
Store in room temperature
Shelf life 2,5 years
Ingredients
Contains natural ingredients of Norway Spruce resin. Not for persons or animals allergic to natural resins.
Aqua, Glycerin, Sodium Laureth Sulfate, Cocamidopropyl Betaine, Picea Abies Resin Extract, Sodium Chloride, Sodium Benzoate, Guar Hydroxypropyltrimonium Chloride, Piroctone Olamine, Citric Acid.
pH 4.9 +/- 0.3