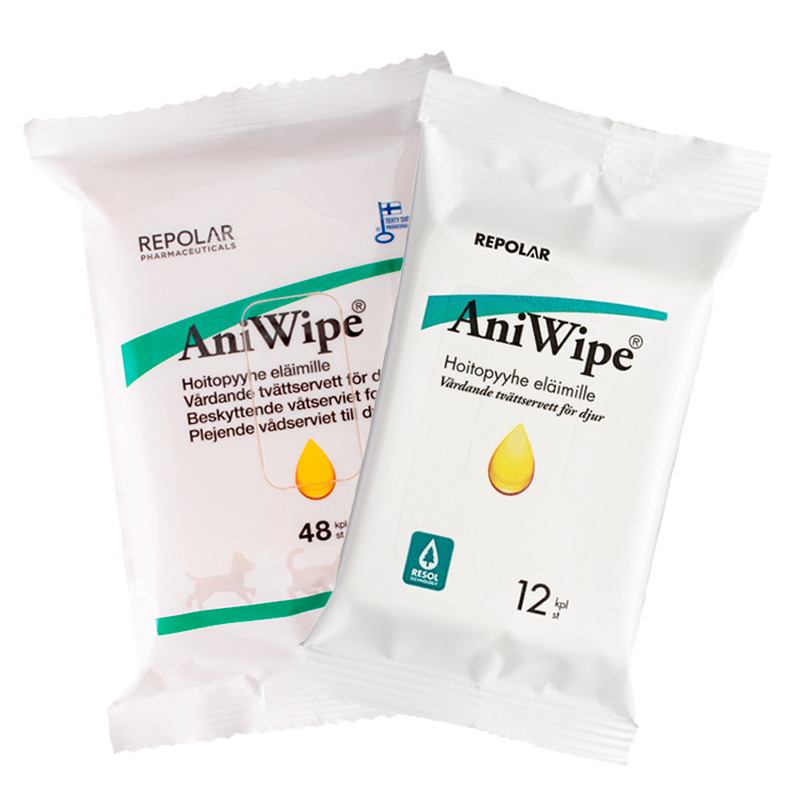 Designed to cleanse the daily dirt and assist in reducing irritation and itching
Cleanses, calms and provides a protective layer on skin
Available in packages of 12 and 48 wipes
Especially for skin, skin folds, paws, ears, as well as areas around the eyes and mouth
Also suitable for more sensitive skin areas, does not sting
Natural: no added perfumes
Gentle, alcohol free
How to use
Pull out wipe and close the pack lit. Use the wipe to cleanse the skin, skinfold, fur or hair around the face. Clean sensitive areas around e.g. eyes with care and avoid direct contact with the eye.
If needed use multiple wipes to ensure proper cleaning and moisturizing of the skin. Allow the solution from the wipe to dry on the skin to ensure long term effectiveness.
The wipe material is durable and does not lint. The wipes are biodegradable, but it is recommended to rinse them with water before discarding, this will speed up the biodegradation of the fiber.
Package sizes, storage and shelf life
Resealable pouch contains 12 or 48 high-quality disposable non-woven wipes
Wipe size 12 x 16 cm for single use.
Store the product in a clean place at room temperature.
Shelf life in room temperature unopened 2 years and opened 3 months.
Ingredients
Aqua, Glycerin, Isopentyldiol, Propanediol, Norway spruce (Picea abies) resin, Phenoxyethanol, Methylpropanediol, Caprylhydroxyamid acid, Sodium hydroxide
The wipes are manufactured from high quality non-woven, which does not lint or tear.
pH 5.5-6.0