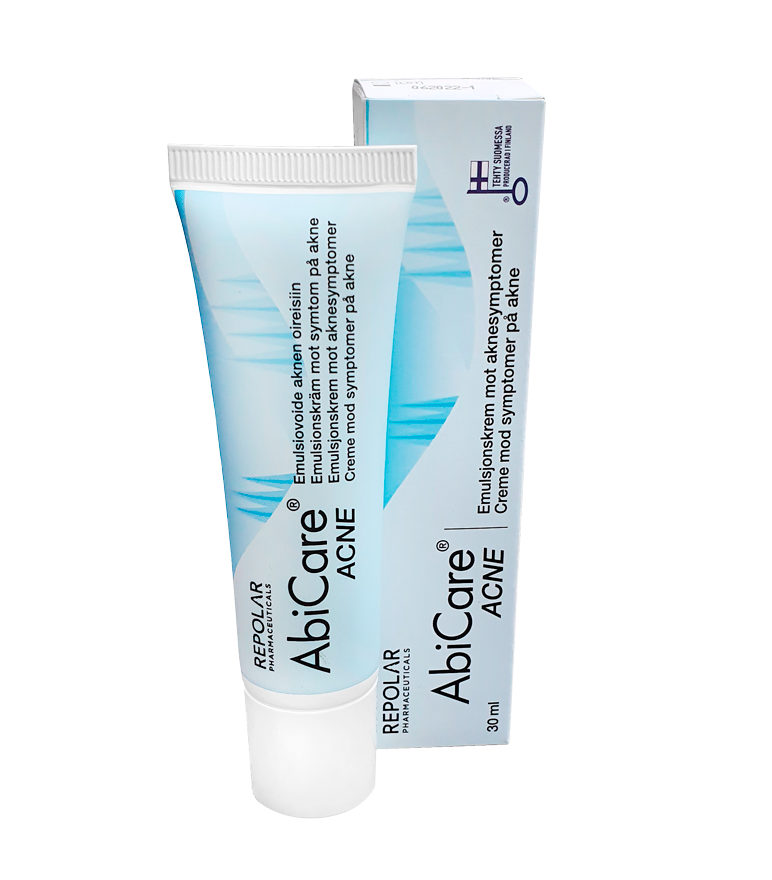 AbiCare® ACNE
AbiCare® ACNE made in Finland by Repolar is a soothing, moisturising and skin-renewing cream made from natural ingredients, for sensitive, irritated, broken and pimply skin.
This light and easily appliable cream does not block the pores and lets the skin breathe.
AbiCare® ACNE contains the soothing ingredients of spruce resin, vitamin E and softening seaweed.

AbiCare® ACNE cream has been found to reduce the growth of acne bacteria in vitro. According to research, AbiCare achieves a statistically significant reduction in the number of pimples.

Available from pharmacies without a prescription.
The vitamin E acts as a strong antioxidant, preventing the harmful effects of free radicals on the skin such as surface dryness, dullness, a reduction in elasticity and premature ageing.
Chondrus Crispus seaweed contains plenty of phenols and fatty acids. Seaweed helps the skin to preserve its natural protective layer of hydrolipids, and also softens the skin.
AbiCare® ACNE also boosts the synthesis of skin cell protein in vitro, which promotes the renewal of the skin.
Package sizes, storage and shelf life
30ml tube.
Store in room temperature.
Shelf life in room temperature unopened 2 years and opened 12 months.
Ingredients
Aqua, Propanediol, Glycerin, Caprylic/Capric triglyceride, Decyl Cocoate, Polyglyceryl-6 stearate, Cetyl alcohol, Picea Abies Resin Extract, Glyceryl Stearate, DL-α-Tocopheryl acetate, Chondrus crispus, Polyglyceryl-6 behenate, Xanthan Gum, Sodium Benzoate, Potassium Sorbate, Citric Acid, Parfum
Use
Before applying the cream, clean and dry the skin.
Apply the cream thinly to the problem areas twice a day.
For external use only. Do not use on open wounds.
Do not use AbiCare® ACNE cream if you are allergic to resins (colophonium) or to any other ingredients in the product.