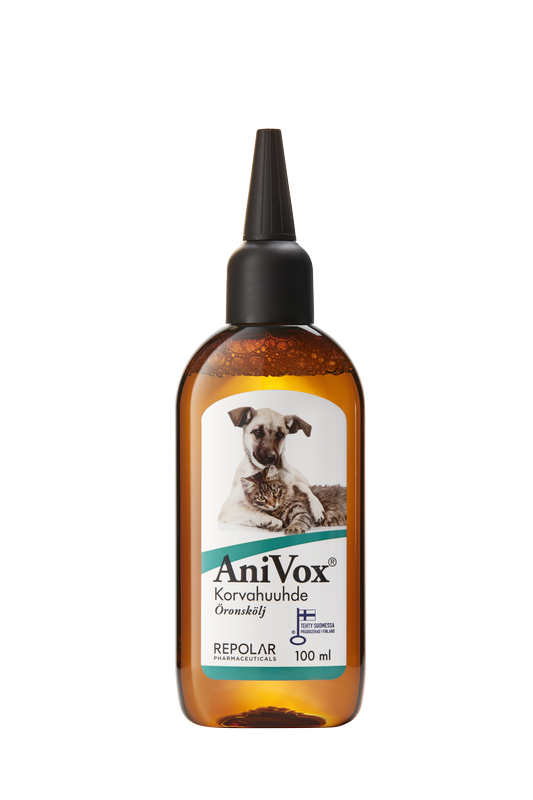 The Finnish ear wash, developed for the cleaning of the ears of the dogs, proved to be very effective in the laboratory studies against methicillin antibiotic-resistant Staphylococcus pseudintermedius bacteria, i.e. MRSP bacteria.
S.pseudintermedius is a common bacterium in the dog's skin and ear infections.
The number of MRSP bacteria decreased to a fraction in a day
Three different MRSP strains were selected for this test, which were the most common MRSP strains in our country.
- Each bacterial strain was predisposed to earwash 24h. After exposure, the number of live bacterial cells had collapsed, so the solution was found to have very strong antimicrobial efficacy aginst MRSP strains, says Elina Aimo-Koivisto, a veterinary specialist from the Faculty of Veterinary Medicine at the University of Helsinki. Elina Aimo-Koivisto presented her research results at annual veterinarian congress in Helsinki November 2018.
- Electron microscopy showed changes in bacterial cells after six hours of exposure. The internal structure of the bacterial cells was changed by the resin and in part of the cells the internal structure of the cell seemed to be completely destroyed, continues Aimo-Koivisto.
It is worthwhile to continue the experiments of this resin based ear wash
In Finland, use of antibiotics is minimized when treating dogs with ear infections. Repeated ear infections are often the due to atopy or allergy. Ear wash products are used for healthy animals for ear cleansing, but also as a supportive treatment for treating external inflammation.
- Based on the study, the antimicrobial efficacy of the resin based ear wash against MRSP bacteria is very good in laboratory conditions. We are currently conducting further studies on its effectiveness against other bacteria. We also hope that we can investigate the product in clinical setting on patients with ear infections, says the research director, docent Merja Rantala.
The research was carried out in co-operation with the Faculty of Veterinary Medicine of the University of Helsinki, Repolar Pharmaceuticals Oy and Finnsusp Oy Laboratory Services. The research has been supported by the Finnish Veterinary Medicine Foundation.
More information
Repolar Pharmaceuticals Oy
+358 40 717 1761